News
Keep up to date with the latest program news
Media Release: Fair Farms appoints new National Program Manager
After an extensive search and selection process, Growcom is pleased to announce the appointment of Mr Sachin Ayachit as the new National Program Manager for the Fair Farms program.
Mr Ayachit joins Growcom with extensive knowledge and experience, and a background in the delivery of certification programs, accreditations, regulatory compliance, training, and implementation of quality systems for certification schemes in the agriculture sector.
Most recently at ACO Certification (previously Australian Certified Organics) as the General Manager of Certification, Mr Ayachit also holds multiple qualifications including a Bachelor of Agricultural Science, Master of Agribusiness Management, an MBA, as well as being a lead auditor for Integrated Management Systems and Internal Auditing.
Over the past 16 years he has worked with more than 4500 certified farmers to deliver certification of 10,000 products in more than 15 countries. His experience will continue to help develop and expand the Fair Farms program.
"I am excited to be starting with Growcom at this very important time for the Fair farms program," Mr Ayachit said.
"Fair Farms is a great initiative that I think many growers will find invaluable as part of their farm management practices.
"It's an Australian based ethical employment standard, industry-led, and it aligns with my desire to work with all members of the supply chain – especially growers."
Growcom Chief Executive Officer Stephen Barnard said that Mr Ayachit's credentials and experience as an agricultural industry expert in training and certification made him the perfect fit for the Fair Farms program.
"Fair Farms aims to recognise growers who are ethical and responsible employers through training and awareness and offers growers a pathway to independent third-party audit through an APSCA registered auditor – so it's great we have Sachin for this lead role," Mr Barnard said.
"Sachin's experience, and focused approach to customers and all stakeholders is ideal for Fair Farms as we look to reinforce and expand the program."
Mr Ayachit will commence work with Growcom's Fair Farms program on 15 December 2021.
For more information about Fair Farms and to stay up to date on any special offers visit fairfarms.com.au
Media Contact:
Fair Farms Communications Coordinator: Sam Selave
M: 0408782762 | E: sselave@growcom.com.au
Media Release: Fair Farms stand it's ground and states the facts
On Thursday 11 November 2021 president of the Australian Council Trade Union (ACTU), Michele O'Neil made several erroneous claims about Growcom's Fair Farms program while on ABC's RN Breakfast Show with Fran Kelly which were repeated in a subsequent ACTU media release.
While on the ABC program the president of the ACTU said that the Fair Farms program was not an independent verification program.
"The assertion that the Fair Farms program does not provide for any independent verification is incorrect," Growcom chief executive officer Stephen Barnard said.
"The pathway to certification or re-certification as a Fair Farm requires that the business undergo an independent third-party audit by an appropriately qualified Social Compliance Auditor."
The Fair Farms program requires the audit firm and the auditor that conducts the audit to be members of the Association of Professional Social Compliance Auditors (APSCA)- a separate entity to the Fair Farms program.
ASPCA is an internationally recognised industry association representing the social compliance audit industry and is governed by a code, standards, and competency framework. It is independently validated.
The Fair Farms standard, against which employers are audited, is entirely grounded, and builds upon all relevant industrial relations and health and safety legislation at both state and national levels.
As well as saying that the program was not an independent verification program, Ms O'Neil also asserted that the Fair Farms program does not have the support of workers or unions, something that Mr Barnard said was also incorrect.
"The Australian Workers Union was consulted when the program was being established and has been a member of the Fair Farms External Stakeholder Reference Group (ESRG) which also includes representatives of the major retailers and some of the audit firms that conduct Fair Farms audits," he said.
"The AWU has not raised any concerns about the program at any meetings of the ESRG.
"There is no basis for the claim that the program does not have the support of workers."
Ms O'Neil also asserted that the Fair Farms program was only about the horticulture industry trying to make itself look better.
"The program is not only about improving the way the horticulture industry is perceived by workers and the community at large," Mr Barnard said.
"The program's key objective is to lift employment practices across the Australian horticulture industry and to reduce the risk of worker exploitation.
"The programs standards and training modules were developed to help get farmers up to speed on legislative requirements and workplace health and safety laws set at both the state and national level for the primary benefit of the worker and the business.
"Fair Farms aims to achieve this through an industry-led assurance and independent third-party certification program designed to support participating growers and other supply chain members with their compliance to Australian labour laws and industry standards."
Growcom's Fair Farms program has the support of the Federal Government and Minister for Agriculture and Northern Australia David Littleproud.
In a media release made in late October of this year announcing a $3.2 million investment by the government into the program, Minister Littleproud said that the funding for Fair Farms would help more horticulture producers get on board with the program.
"The Fair Farms program is there to help horticulture businesses do the right thing, both for their employees and their businesses," Minister Littleproud said.
"We know that most farmers want to do the right thing by their workers but navigating employment and work health and safety regulations can be a struggle.
"Fair Farms was put together by Growcom to support all members of the Australian horticulture supply chain with the tools, information and training they need to be a compliant and ethical employer.
"I encourage anyone involved in the horticulture supply chain to look into this program."
Fair Farms is just one of several existing independent certifications of ethical employment that the Federal Government is considering enabling employers to prove their suitability for engaging workers through the new Agriculture Visa.
For more information about Fair Farms visit fairfarms.com.au
ENDS

Background:
Fair Farms is national initiative developed and implemented by Growcom, peak industry body for horticulture in Queensland, with support from the Fair Work Ombudsman, the Department of Agriculture, Water, and the Environment, and AUSVEG.
Fair Farms is an industry-led, national training and certification initiative that is cultivating fair and responsible employment practices in Australian horticulture. The program provides support and training to farm employers and a pathway to independent third-party audit and certification.
Media Release: Fair Farms program receives ongoing endorsement and support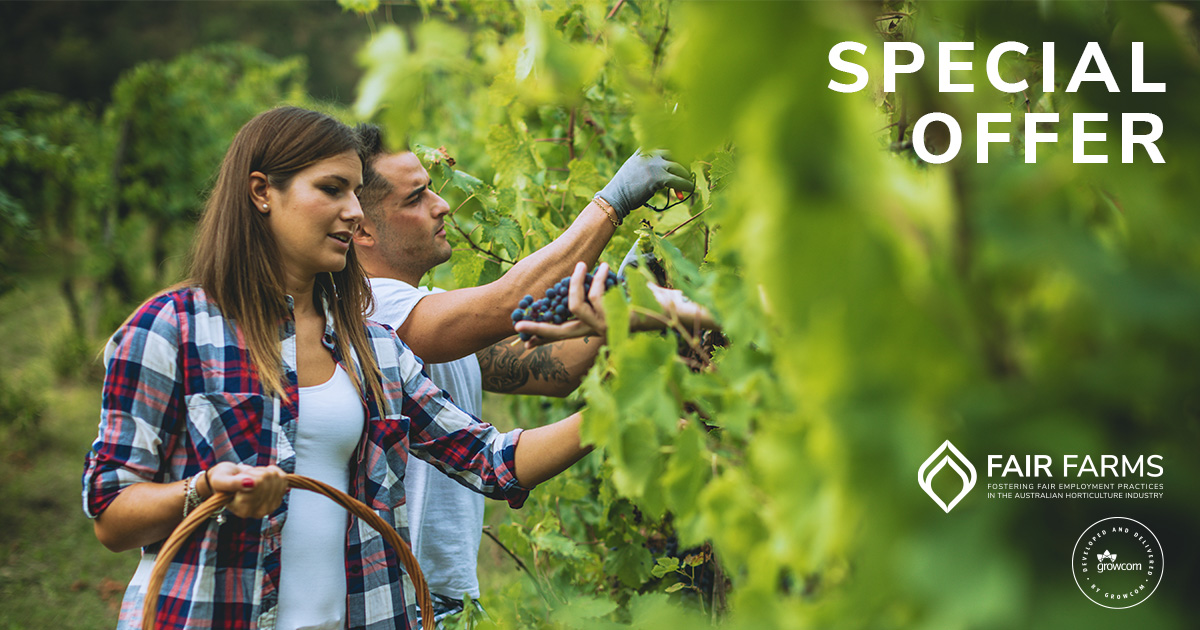 Fair Farms program receives ongoing endorsement and support
The Federal Minister for Agriculture and Northern Australia David Littleproud recently announced his and the Federal Government's ongoing backing and support of Growcom's industry-led, Fair Farms program. To celebrate Fair Farms is providing an exclusive offer for new Fair Farms registrants.
Growcom chief executive officer Stephen Barnard said this new special offer is a great opportunity for growers to prove they are ethical and socially responsible employers.
"To have Minister Littleproud continue this support and believe in our program really serves to illustrate how important it is," Mr Barnard said.
"As a result of the Federal Government's commitment to Fair Farms, we are offering this enhanced support offering for all new Fair farm registrations."
Fair Farms will offer any new member who joins before 30 March 2022:
5 free training modules, should your OSA identify training needs;
Up to 2 hours of free consultation with our Fair Farms Industry expert to help with onboarding to the scheme;
Access to regular Fair Farms webinars; and
Free customised Fair Farms certification logo pack for you to use on trade-level communications (once certified) valued at $200.
"The five free training modules – of the 40 available within the program – will upskill in targeted areas relevant to their needs and set them up for success," Mr Barnard said.
"The two hours of free consultation with our Fair Farms industry expert will be an invaluable support tool on the road to certification.
"Access to Fair Farms webinars will give growers the opportunity to engage with industry experts on matters directly concerning the horticulture industry – essentially it will be keeping our members up to date and in the know."
To register click here
To read Federal Minister for Agriculture and Northern Australia David Littleproud media release about Fair Farms click here
T&C's: Offer valid only until 30 March 2022. Offer only available to new members. Registration fees still apply. Certification logo pack only available upon successful audit certification.
Helping you manage labour hire risks
Using a labour hire provider (LHP) does not mean that labour laws don't apply to your business. Far from it! If the LHP you use does the wrong thing by its workers, then your business could be liable. The main areas of risk relate to workplace health and safety (WHS), employee wages and conditions, and Right to Work and you should have a system to manage that risk.
STEP 1: DUE DILIGENCE
Your business should apply a process of due diligence before engaging a LHP.
Queensland, Victoria, and South Australia have laws that now require the licensing of LHPs. It's unlawful to use an unlicensed LHP in those states.
To verify that a LHP is licensed, check the relevant online register:
Labour Hire Provider or contractor?
The business you are considering engaging may claim that they do not need to be licensed because they are a contractor and not a LHP. It is unlawful to enter into an arrangement that is designed to avoid licensing obligations. Whether or not a business meets the definition of an LHP under State laws depends on a range of factors.
Making sure a LHP has a current license is just the first step.
Below is a checklist of red flags and good practices to consider when preparing to engage with a LHP.
| | |
| --- | --- |
| The LHP can't provide a certificate of currency for insurances such as workers compensation and public liability. | |
| The LHP has WHS policies and procedures, and a process for induction and supervision of employees. | |
| The LHP has been prosecuted for breaches of WHS, Fair Work or Migration laws. | |
| The LHP has a system for checking that employees have the right to work in Australia (eg. VEVO). | |
| The LHP can't identify the correct industrial instrument (Award) and pay rates. | |
| The LHP maintains good time and wage records, and pay slips are provided to employees. | |
| The LHP has written employment agreements and does not use ABN's. | |
| The LHP won't rule out subcontracting to another LHP without consent. | |
| The LHP is currently registered (ABN or ASIC) and has been in business a while. | |
| The LHP has quoted rates that may not enable obligations to employees to be met. | |
| The LHP is a Staffsure certified provider (see www.staffsure.org). | |
STEP 2: GET IT IN WRITING
The cost of labour is likely to be one of the most significant expenses your business will bear. With so much at stake it's just good business practice to have a written and legally enforceable agreement. If your LHP does do the wrong thing by their employees and regulators are asking you some hard questions, a written agreement will help in establishing that your business should not bear any liability. A good agreement will require the LHP to provide your business with evidence that it is meeting its legal obligations and should ensure that there is no sub-contracting without consent.
STEP 3: ONGOING MONITORING
Effectively managing the risk to your business involves implementing a system to regularly check that the LHP is doing the right thing. Check time and wages records on a regular basis and spend some time talking to the employees of the LHP working on your farm. Make sure you investigate any complaints or issues that come up.
Applying this process may take a little time and effort but it could prevent a lot of expense and heartache.
Want to know more? You can access free training videos online. Just visit: www.growcom.com.au/projects/managing-labour-hire-risks/

Growcom's Fair Farms program has standards and training modules that help farm businesses to keep up to speed on legislative requirements set at both the state and national level. Become a member of Fair Farms today to access an Australian-centric training and certification program including online training modules, one-on-one training and over-the-phone support that helps your business showcase ethical employment practices to the supply chain.
Thinking and acting for the future working with Growcom's Fair Farms solution to boost industry reputation
September 2021 | Fruit & Vegetable News magazine
Dark shades of green splashed with bright, glossy reds stretch out on tables under the warm winter sun.
It's strawberry season at Stothart & TSL Family Farms near Caboolture, where progressive management practices are paying off for the wellbeing of staff, the environment and growing a top-quality product.
The strawberries, grown using a hydroponic system set on the tops of tables, are sold exclusively at Coles supermarkets under the Taste 'n' See brand – which is a partnership between Stothart Family Farms and TSL Family Farms.
The picking season got underway in May and as the weather starts to warm up every day, the strawberries will ripen just as fast, farm manager David Fairweather said.
"Last year's winter was a couple of degrees warmer," Mr Fairweather said.
"This season has been a bit slow-starting because of the cold but production is really increasing now in August and will do so throughout September with the season usually finishing off in late October."
Pickers utilise trolleys to move up and down the rows of tables, looking for ripe strawberries and placing them in trays ready for packing.
Mr Fairweather said there are several benefits to growing strawberries on tables.
"It's easier for the pickers to pick the strawberries and saves them from having to bend down low so that's an improvement in Workplace Health and Safety," Mr Fairweather said.
Beneath the tables, grass grows as thick and healthy as it does in a park.
"We use a quarter of the water on table crops and plants use up 90% of the water within the irrigation system," Mr Fairweather said.
"The leftover water is for the grass.
"Because of this there are no erosion issues and no water runoff which helps to maintain high water quality in the dams."
The two farms combined utilise about 40 hectares for production and the plan is to fully incorporate the hydroponic system with tables across all strawberry fields by 2023.
As with most farms, there's a lot of responsibility to juggle – the wellbeing of staff, the packing process, sustainable environmental management and maintaining the Fair Farms standard.
Taste 'n' See, which was originally Sedex certified, became Fair Farms certified in June.
For Tahlia Stothart, who manages the office and paperwork that comes with running a large operation, the Australian-centric design of Fair Farms was reassuring.
She said the transition from Sedex to Fair Farms was smooth, and that the assessment and auditing process leaves growers with a clear mindset in terms of what they need to focus on to meet workplace and industrial relations benchmarks.
"We found the online self-assessment questions direct and industry specific," Ms Stohart said.
"It helped us to identify areas we are doing well in and a few areas that could be revisited or updated.
"You know what you've got to do next and if you're not sure about something, links are available to research what Fair Farms requires.
"Training is also available and we had an online Zoom meeting with a trainer to help."
Like undertaking any transition or gaining a new responsibility, it was the fear of the unknown that proved daunting.
However, once the online self-assessment was completed, the two families felt they were in a clear mind about meeting Fair Farms certification – industry benchmarks relating to the wellbeing of staff and meeting workplace and industrial relations requirements.
Samantha Stewart, from TSL Family Farms, said the Fair Farms certification is about taking proactive steps every year to keep ahead.
Ms Stewart said the Fair Farms online self-assessment was indicative of the state of business, leaving the user with an understanding of what their next step would be.
"I enjoyed the process of the Fair Farms audit, I like the checks," Ms Stewart said.
"There's a satisfaction in knowing things are being checked.
"It's disappointing if there's a view that's negative from consumers about fruit and veg growers.
"If we can show we are doing a good job then we should – it protects our business.
"For us we like to provide a fair farm for our workers – to make it a great place to work where employees will want to return each season.
"If there's any issues on-farm, workers know what to do and who to communicate with and there's documentation in place for these types of processes. It's a fair playing field."
These are the types of Employment Relations and Workplace Health and Safety practices that may give businesses a chance to attract and retain staff with more ease.
During peak season, the two farms employ upward of 350 workers.
The farms have always employed a large percentage of returning local employees each season as well as working holiday makers, particularly during the peak season, with an increase in workers for a shorter period of time, when required.
Faced with the challenges of COVID travel restrictions and recruiting workers, the Taste 'n' See brand has partnered with Approved Employers of the Seasonal Worker Programme, and for the first time is employing additional workers from Timor-Leste, Samoa and Tonga.
"The Government needs to be aware of the critical shortages of seasonal and transient workers," Mr Fairweather said.
Apart from the continual transition to hydroponic system on tables and the benefits it has brought to workers, the environment and production quality, Taste 'n' See is confident that Fair Farms is the right choice; farmers doing their bit to boost industry perception.
"It is important to us that our business and our industry can display that we are operating fairly and professionally, and Fair Farms certification helps us to do this," Ms Stewart said.
"If we can show that we are a Fair Farm we can be seen as an employer of choice to potential employees."
In the words of Mr Fairweather, "reputation is important."
The Taste 'n' See brand was established in 2003 by Stothart Family Farms and TSL Family Farms.
Both families have grown strawberries since the 1970s and put their successful partnership down to respect, faith and helping one another out when things get tough.
Don't pay the price with your life: focus on electrical safety
September 2021 | Fruit & Vegetable News magazine
Don't pay the price with your life: focus on electrical safety
In July, a worker on a pineapple farm in Queensland tragically lost their life after a harvester hit overhead power lines. Each year too many farm workers are killed or seriously injured by electrical incidents on rural properties.
Within the Fair Farms Program, we remind employers of their workplace health and safety standards that help make sure tragedies like this don't happen. We are here to raise awareness and support farms to help prevent the chances of accidents, so that the entire Australian horticulture industry thrives. Here are some tips to consider when working around power lines.
Plant and machinery, irrigation pipes, augers, cranes and excavators all have the potential to contact powerlines and when that happens the result can be deadly. Electricity from powerlines can arc or jump across lines, even if there is no direct contact.
Powerlines can sag between the poles and can be as much as three or four metres below the cross arms supporting them. Sometimes they are difficult to see – on the horizon, in low light or in high winds that force the powerlines to sway some distance.
Workers and equipment must be kept a safe distance from powerlines. Electrical safety laws in each State and Territory set out the minimum safe distances (exclusion zones).
There are practical steps farmers can take to keep workers safe:
Arrange for your electricity provider to install visual markers. Install highly visible ground markers and have a safety observer on the ground.
Work in the direction away from powerlines not towards them.
Avoid working near powerlines if you can. If you can't, then know the height and prevent entering the exclusion zone. Re-check clearances if you buy new plant and equipment.
Report unsafe power poles on or near your property to the electricity distributor. If you own the poles have them periodically checked by a licenced electrical contractor.
Don't locate machinery or equipment under powerlines and always lower machinery near powerlines.
Store irrigation pipes well away from powerlines.
Train your workers to identify where powerlines are located and induct all workers and visitors.
Keep vegetation and crops away from power poles and stay wires.
Ensure your emergency procedures are up to date and your workers are familiar with them.
Powerlines may also be located below ground. Before doing any work involving trenching or drilling holes it is necessary to take steps to find out if underground electrical cables are at or near where the work is to be done. The Dial Before You Dig service is available around Australia and can be contacted through their website: http://www.1100.com.au.
Whether powerlines are above ground or below ground, electrical safety laws require that before commencing work you complete a risk assessment and put in place suitable safety measures that might include the above.
Applying a risk management approach to electrical safety involves:
Identifying the risk;
Assessing the risk;
Decide on what is needed to control the risk;
Implement the control measures; and
Monitor and review the controls to assess effectiveness.
Taking a little time to ensure the work is done safely could save a lot of heartache and trouble. It could save a life and that life could be yours.
For more information, visit www.fairfarms.com.au
Sexual harassment in the workplace 
May 2021 | Fruit & Vegetable News magazine
Around the country the topic of sexual harassment has been a common theme recently. According to the Australian Human Rights Commission, 72 per cent of Australians over the age of 15 have experienced sexual harassment in their lifetimes, with 23 per cent of women and 16 per cent of men reporting they have been sexually harassed at work in the last 12 months. To effectively tackle this issue, it is important to highlight practical methods horticulture employers can implement on the ground.  
The Fair Farms Standard promotes that businesses have policies and procedures in place to ensure workers are free from sexual harassment. 
What is sexual harassment? 
Sexual harassment is any unwanted or unwelcome sexual behaviour where a reasonable person would have anticipated that behaviour would make someone feel offended, humiliated, or intimidated. It has nothing to do with mutual attraction or consensual behaviour. Whether or not behaviour is unwelcome is subjective. This means that the recipient of the behaviour is the ultimate decider of whether it is acceptable. Therefore, it is important to not make assumptions, treat everyone with the utmost respect and place your employees at the heart of your policies and procedures.   
Examples of sexual harassment include:  
staring, leering or unwelcome touching 

 

suggestive comments or jokes 

 

unwanted invitations to go out on dates or requests for 

sex

 

 

intrusive questions about a person's private life or body 

 

unnecessary familiarity, such as deliberately brushing up against a 

person

 

 

emailing pornography or rude jokes 

 

displaying images of a sexual nature around the workplace

.

 

 
You may be found vicariously liable for sexual harassment in your workplace if you did not take 'all reasonable steps' to prevent the sexual harassment from occurring. What constitutes 'all reasonable steps' is different for every business. Generally, the larger your business is, the more resources and effort you should be able to input into preventing harassment. 
What can employers do? 
Sexual harassment can have very negative effects in the workplace beyond the harm made to victims, including reduced morale, absenteeism and injuring your reputation. As an employer you have a responsibility to take all reasonable steps to actively prevent sexual harassment in the workplace. Ways of doing this include:  
creating a healthy and safe work environment based on 

respect

 

 

developing and implementing a sexual harassment policy and procedure 

 

providing or facilitating education and training on sexual harassment. 

 
An important aspect to preventing sexual harassment is developing and implementing a written policy and procedure outlining that sexual harassment will not be tolerated in the workplace. This policy can form a part of your broader bullying, harassment, abuse & discrimination policy. You should develop the policy based on your unique business needs, but generally the policy should identify the following elements:  
communicate that sexual harassment will not be 

tolerated

 

 

communicate that sexual harassment is 

unlawful

 

 

outline the procedures for addressing and dealing with sexual 

harassment

 

 

explain the consequences of breaching the 

policy

 

 

identify everyone's responsibility for dealing with sexual harassment, including staff and 

management

 

 

outline any external avenues for staff dealing with sexual harassment. 

 
Once you have developed your policy and procedure, ensure it is implemented. Communicate your expectations to staff through their induction process and meetings, ensuring managers and supervisors are trained in how to implement the policy. 
While policies and procedures are very important, they have no teeth without a culture and work environment that is healthy, safe, and based on courtesy and respect. You can promote a healthy and safe work environment by:  
Setting expectations with any senior management and supervisors to model appropriate behaviour and response to complaints swiftly and 

fairly

 

 

responding promptly to any concerns raised 

 

supporting and encouraging bystanders to report inappropriate behaviour. 

 
The Fair Farms Standard addresses this topic and much more in a way that is as simple as it can be for Australian growers to comply with legislation and consumer expectations. Fair Farms stands by farmers who stand for fair work. We are here to help raise awareness and improve culture one business at a time for the entire Australian horticulture industry to thrive. 
Fair Farms Gains Momentum - 50% Growth in Certifications
March 2021 | Fruit & Vegetable News magazine
Growcom's Fair Farms program, which supports growers in proving their commitment to fair wages and decent treatment of the labour force in the horticultural industry, has started to gain ground with the number of certifications issued to farmers doubling since June last year.
Fair Farms is a training and certification program for employers in the horticulture sector. It is designed to help farmers engage in fair and ethical work practices.
It provides growers with best-practice standards for the fair and equitable treatment of employees, in a simpler, less expensive, and locally-designed process that farmers can use to demonstrate they conform to the law and treat workers well.
Fair Farms National Program Manager Marsha Aralar said since June many growers had started the certification process with the program experiencing a 219 per cent increase in the number of producers registered to participate in the program.
"This is a promising result and indicates a growing intent along the supply chain to demonstrate a commitment to fair and equitable work practices and eradicating exploitation," Ms Aralar said.
"At its heart, Fair Farms is about giving producers easy and affordable access to the resources they need to understand and conform with various laws that underpin the fair treatment of workers.
"It's about levelling the competitive playing field by raising awareness and commitment to good work practices and conditions while reducing the burden of unnecessary red tape for farmers."
For those few bad seeds that do not do the right thing, Fair Farms will help weed them out and, through industry and community sentiment, eradicate them from the market.
"It's not fair for exploitative operators to achieve the same prices in market as those operators who are paying and treating their workers fairly," Ms Aralar said.
"Decent operators are fed up with being tarnished with the same brush as a few opportunistic operators."
Ms Aralar said that Fair Farms, which had been designed in collaboration with businesses along the supply chain, was about creating a movement of those who want their produce delivered to the table having been grown ethically and to the highest standards.
"Consumers don't want wholesome foods like fruit and vegetables produced through unwholesome work practices," Ms Aralar said.
"With Fair Farms certification, growers will be able to show their commitment to fair and equitable work practices – and this will mean greater access not only to a more willing and able labour force, but to retailers, like Aldi, Coles and Woolworths, who want to meet the needs of customers who increasingly demand products that have been ethically sourced.
"Ultimately, the Fair Farms program is about ensuring Australia has a strong, thriving horticultural industry which benefits not only individual farmers and the industry, but the broader community as a whole."
In December 2020 Fresh Markets Australia (FMA) the national organisation representing each of the five Market Chambers formerly endorsed the Fair Farms program.
General Manager, FMA Gail Woods said "Fair Farms certification is relevant across the supply chain. The time commitment and the cost of compliance for the industry is increasing, and FMA considers Fair Farms as a straight-forward and affordable compliance option that not only meets the requirements of major supermarkets responsible sourcing policies, but also validates good employee practices."
Managing and Preventing Heat Stress
January 2021 | Fruit & Vegetable News magazine
As the weather warms up heat stress presents a more insidious and dangerous hazard each day.
Over the last 120 years, heat has killed more Australians than any natural disaster. Recently, the risks of heat became apparent when a business owner in North Queensland was fined $65,000 for the death of a backpacker who collapsed from heat stress while picking fruit.
With so many industry workers arriving from much cooler climates, it is critically important that you understand the risks of heat stress and how to keep your workers safe.
What is heat stress?
Heat stress refers to any heat related illness that arises when the body cannot cool itself properly. Human bodies regulate heat and cool down by sweating however, sweat can be insufficient which causes body temperature to rise. Heat stress can manifest in relatively mild conditions such as heat rash or heat cramps. While these conditions can seem more inconvenient than dangerous, they can be an early symptom of heat exhaustion or heat stroke and should be treated seriously.
Heat exhaustion happens when excessive sweating in a hot environment reduces blood volume, natural fluid and salt levels. Heavy sweating, paleness, rapid heart rate, muscle cramps, dizziness, headache, nausea and fainting are all warning signs. Heat exhaustion is very dangerous and can develop into heat stroke. If you suspect someone has heat exhaustion:
Move them to a cool, shaded area and lay them down.

Remove their outer clothing.

Wet their skin with cool water or wet cloth.

If they are fully conscious, increase their fluid intake.

Seek medical advice.
Heat stroke occurs when the body's core temperature rises above 40.5°C and loses the ability to sweat and cool down. Heat stroke can develop rapidly over 10-15 minutes. Warning signs include an extremely high body temperature, red, hot, dry skin, a rapid pulse, throbbing headache, dizziness, and nausea. People may stagger, appear confused, have a seizure, or become unconscious as their central nervous systems and organs suffer severe damage. Heat stroke is incredibly dangerous and is fatal in up to 80 per cent of cases. If you suspect someone has heat stroke:
Call triple zero (000) immediately.

Try to reduce their body temperature by moving them to a cool, shady area, fanning them continuously and wetting their skin with water.

Do not give them fluids to drink as the airway may be obstructed.

If unconscious, lay them on their side.
How to manage heat stress
When it comes to managing heat stress, prevention is better than a cure. The risk of heat stress is highest during heat waves, high humidity, and when temperatures are 5°C or more above average. Workers are at higher risk when working in uncovered areas outdoors. To manage the risk of heat stroke, consider including these strategies into your WHS policies and procedures:
Drink plenty of water and avoid sugary drink intake.

Wear lightweight, long-sleeved, cool clothing.

Provide sunscreen, hats, and sunglasses to workers.

Provide workers with wet towels for cooling down.

Organise frequent breaks in shaded areas and consider job rotation.

Plan to schedule outdoor work in the cooler parts of the day.

If indoors, keep air circulating with fans.

Check in with your workers frequently about how they are feeling.

Ensure everyone understands the signs and risks of heat stress and how to manage it

.
As the frequency and duration of heat waves increases across Australia, it is more important than ever to stay informed and understand how to keep yourself and your workers safe though hot conditions.
Understanding Industrial Instruments
November 2020 | Fruit & Vegetable News magazine
Our industrial relations system is uniquely Australian. Since the introduction of unions, the 8-hour workday and the minimum wage more than 100 years ago, our system has been ever evolving to strike the best balance between the interests of employees and employers.
A key component of the Australian industrial relations system is the industrial instrument. "Industrial instrument" is a catch all term that includes any legally enforceable document that determines the employment terms and conditions of workers in an industry or business.
While not the most exciting concept, industrial instruments hold a lot of important information that should guide our business decision making and day-to-day operations.
The Fair Farms Standard promotes that businesses should have a working knowledge of the contents and application of the industrial instruments that apply to their workers, including those provided through Labour Hire Providers
What are industrial instruments?
There are three types of industrial instruments:
The National Employment Standards (NES)
Modern Awards
Enterprise Agreements
The NES are the 10 minimum employment entitlements that cover all employees in Australia, regardless of what Award or Enterprise Agreement they are employed under. The NES is also the primary industrial instrument for Award-free employees. The NES overrides any lesser entitlement in an Award or Enterprise Agreement.
Modern Awards are industrial instruments covering the minimum conditions of employment for an industry or occupation. They work in conjunction with the NES, and cover entitlements such as:
Rates of pay
Shift Allowances
Rest and meal breaks
Redundancy payments
In the horticulture industry, the most common Awards are the Horticulture Award for manual workers and the Clerks – Private Sector Award for administration workers.
Enterprise Agreements are essentially Awards for individual businesses. They cover the same entitlements, however they are negotiated between employers and employees. The horticulture industry saw many businesses creating Enterprise Agreements in 2009, of which many still apply today. If you have an Enterprise Agreement, it replaces the relevant Award as your industrial instrument.
How to use your industrial instrument
Industrial instruments can be very long and legalistic. The good news is you don't need to know them off by heart! You just need to know where to look for information when you need it. If your packing shed has an abnormally long day you should be able to quickly pull up your Award or Enterprise Agreement, find what your obligations are and implement them easily.
Labour Hire Providers
In an industry where Labour Hire Providers (LHPs) are so prevalent, it is important to understand how industrial instruments operate. Industrial instruments are specific to the direct employer of workers. If your business has an Enterprise Agreement, it cannot apply to any LHP workers on your site.
When you engage a LHP, you should get an understanding of what industrial instruments apply to their workers. This will give you more confidence that your payments can reasonably cover wages, entitlements and a profit margin.
Educating workers
The issues covered by industrial instruments can determine the daily lives of workers, such as their pay rates, break times and rostering. It is important workers are aware of and understand the industrial instruments that apply to them. Having your industrial instrument be a source of truth for both you and your workers means you can proactively work together to solve any issues instead of letting them snowball.
Therefore, you should keep copies of your industrial instruments in common areas for workers. Update these copies when new versions are released, highlighting the changes. You should also include access to the industrial instruments in their induction package. Remember, empowered workers are productive workers!
Managing grievances
July/August 2020 | Fruit & Vegetable News magazine
When running a business, it is inevitable that complaints or grievances from workers will come up. When managed poorly, grievances can be stressful, time consuming, costly, and negatively impact employee morale and productivity.
Having a clear system for managing grievances reduces your exposure to risk, shows employees they will be fairly treated, and manages your legal and ethical responsibilities with a consistent and objective framework.
The Fair Farms Standard promotes that businesses have a clear and fair grievance policy and procedure in place to support an open and trusting workplace culture.
What is a grievance?
When a worker has a grievance, it means they have an issue about something or someone in the workplace, unrelated to their rights or entitlements. Workers can raise grievances against their employer, or against another employee. Types of grievances workers may raise include:
Poor communication from management

Unfair workloads among their co-workers

Unsafe work practices
Having a policy
The key to managing workplace grievances effectively is having a clear and equitable grievance policy and procedure in place. The benefits of an effective grievance policy include:
Demonstrating to employees that they will be treated fairly

.

Ensuring employees know how to raise grievances, what to expect out of the process, and feel comfortable doing so

.
You should design your policy around your unique business, but generally the policy should outline:
How your business is committed to resolving grievances fairly and reasonably

.

What types of issues are dealt with under the

policy

.

The step-by-step procedure for dealing with and resolving grievances, including timeframes

.
Applying the policy fairly
A policy is only as effective as its implementation. Therefore, it is very important that you can apply the policy in a reasonable, equitable and fair manner. One way of ensuring fair implementation is by training any supervisors or senior management staff in how to apply the policy.
However, the most important tool in ensuring your grievance policy works is making sure your employees know about it. Include the policy in new workers' induction sessions and have a copy in the break room for easy access.
Anonymous reporting
In addition to a clear and fair policy, your business should have a way for workers to anonymously report grievances. While it would be ideal for workers to feel safe and comfortable raising issues directly, they may not feel comfortable because:
They do not want to be labelled a "snitch" by co-workers

They have a close relationship with the person they have a grievance about
They are afraid of retaliation
Importantly, allowing anonymous reporting can help encourage internal resolutions, preventing any additional stress or resources needed to deal with external organisations. Just like the grievance policy, you should clearly outline to your workers how you will deal with anonymous complaints. There are a range of ways to set up an anonymous reporting mechanism, but it doesn't have to be fancy. An empty tissue box will do the trick!
These and other ethical employment topics are covered in the Fair Farms Standard, which outlines the accepted principles of fair and ethical employment in Australian horticulture. Employers who wish to demonstrate compliance with the Standard can get certified through a third-party audit. For more information, visit: www.fairfarms.com.au or email us at fairfarms@growcom.com.au
Guidelines for using Labour Hire Providers
May/June 2020 | Fruit & Vegetable News magazine
Growers all around Australia rely on Labour Hire Providers for the engagement of seasonal workers. Contrary to widespread belief, using a Labour Hire Provider does not entirely release the grower from their legal and ethical duties to ensure compliance and workers' welfare. Therefore, it is important to have good processes in place to manage the outsourcing of labour and mitigate the risks involved.
Here are some key recommendations around the use of Labour Hire Providers:
Do your due diligence up front
Before you choose a Labour Hire Provider, it is important to do your due diligence. Steps for selecting a professional provider and identifying dodgy operators may include:
Reference checks (asking around for experience with a provider)

Check if the provider has the appropriate license (if applicable) and examine the restrictions and history of that license

Look for a provider with

StaffSure

certification (

www.staffsure.org

)

Check for unusual patterns that could point towards a sham operator, for example:

Frequent changes to business name or ABN

No physical business address or phone number

No track record of GST

An ABN check that reveals the entity was registered very recently
Sign a written contract
Your business relationship with the Labour Hire Provider should be documented in a written contract that outlines each party's legal and ethical obligations to one another and towards workers. The contract should also cover off on how adherence to these obligations will be monitored. Further guidance on what should be included in the contract is given in the Fair Farms Standard.
Monitor what goes on
Continuous monitoring is critical for ensuring that your Labour Hire Provider sticks to their side of the bargain. After all, that's what you are paying them for. You should put robust monitoring practices in place that suit your circumstances. Ways to monitor the provider should include:
Asking to review a random selection of worker pay-slips periodically

Asking the provider for evidence of paying super

Inspecting worker accommodation or requesting photos

Educating workers about their legal rights and entitlements

Providing a grievance process for workers
Pay a reasonable fee
You should ensure that the fees charged by your provider are enough to cover their costs plus a reasonable profit margin. The provider's costs should normally include:
Minimum wage for workers (keep in mind overtime and piecework provisions if applicable)

Superannuation

WorkCover and other insurances

Payroll tax

Admin overhead
Always remember that if a price seems too good to be true, it probably is. Such a proposition is often built on underpayment of workers.
Avoid further subcontracting
Finally, one should be cautioned against further subcontracting of labour (ie. your provider engaging another provider to send you workers). Experience shows that extending the labour supply chain increases the risk of workers being exploited, as each business in the chain takes their cut, often not leaving enough for the worker to get a legal wage. While further subcontracting can be legitimate in certain circumstances, for example for contingency workforce planning, as general guidance, it requires additional due diligence and should be avoided.
These and other topics around ethical employment are covered in the Fair Farms Standard, which outlines the accepted principles of fair and ethical employment in Australian horticulture. Employers who wish to get trained and certified against the Standard can join the Fair Farms Initiative here: www.fairfarms.com.au/registration
For more information, visit: www.fairfarms.com.au or email us at fairfarms@growcom.com.au
Managing bullying, harassment and discrimination
March/April 2020 | Fruit & Vegetable News magazine
The horticulture industry is lucky enough to welcome workers with diverse backgrounds and experiences that make the industry an interesting and exciting place to work. However, these workers may be vulnerable to bullying, harassment and discrimination. This not only forms a health and safety risks for workers but can also prevent them from performing their job well.
We all deserve a safe place to live and work, therefore Fair Farms encourages growers to have policies and procedures in place to understand, prevent and manage any instances of bullying, harassment and discrimination.
Bullying and harassment
Bullying happens when people repeatedly act unreasonably towards someone in a way that can affect that person's physical or psychological wellbeing. Bullying can either be direct or indirect.
Direct bullying is negative behaviour that is very clear and explicit, usually conducted to belittle or demean a person. Examples of direct bullying include:
Abusive or offensive language

Regular teasing

Making someone the butt of pranks
Indirect bullying involves more subtle or indirect behaviours that over an extended period have a negative impact. Examples of indirect bullying include:
Deliberately excluding someone from normal work or social activities

Spreading rumours about someone

Deliberately making someone's job harder to perform by hiding equipment or giving false information
Warning signs that bullying might be occurring in your workplace can include high rates of workers calling in sick, an excessive 'tough guy' workplace culture and uneven distribution of work.
Like bullying, harassment is unwanted or uninvited behaviour that is offensive, intimidating or humiliating. However, unlike bullying, harassment can be a single incident that offends or humiliates someone. Sexual harassment occurs when the behaviour directed at a person is of a sexual nature, is unwelcome and would cause a person to be offended, humiliated or intimidated. Sexual harassment is unlawful under both State and Federal legislation.
Discrimination
Discrimination occurs when someone is treated less favourably because of a characteristic such as ethnicity, religion, gender or sexual orientation. Like bullying, discrimination can be direct or indirect. While direct discrimination is very easy to see (eg. only hiring white, Asian or female workers), indirect discrimination can be harder to see. For example, a dress code that requires no facial hair when working on a grading line might unknowingly discriminate against workers who have facial hair for religious reasons.
Managing these risks
The first step in managing the risks of bullying, harassment and discrimination is having a clear policy and procedure in place. Your policy should outline:
Your commitment to a safe workplace and intolerance of bullying, harassment and discrimination

The types of issues that are handled under this policy

How your business will handle, investigate and resolve instances of bullying, harassment and discrimination

How workers can seek help, including contact information for counselling and support services
Once you have a clear policy and procedure in place, it is important to communicate it to all workers and include it in any induction material, so workers feel comfortable and safe to raise an issue. You should also train supervisors or managers in the policy so they are confident in handling arising issues in accordance with the procedures.
These and other important topics are covered in the Fair Farms Standard, which outline the accepted principles of fair and ethical employment in horticulture. Employers who wish to demonstrate compliance with the Fair Farms Standard can get third-party certified. For more information, visit: www.fairfarms.com.au or email us at fairfarms@growcom.com.au
New annualised salary requirments take effect from March 2020
As part of the four yearly review of modern awards, the Fair Work Commission (FWC) has handed down a decision which will impact employers paying annualised salaries to employees covered by a modern award with an annualised salary clause. The three new standard 'annualised wage arrangement' clauses will replace the existing annualised salary clauses in 19 modern awards, including the Clerks Private Sector Award 2010, already containing an annualised salary clause. The new terms will also be inserted into three modern awards which have not previously had an annualised salary. The Horticulture Award 2010, MA000023, is one of those awards.
Modern awards that cover employees who work widely variable hours and/or significant ordinary hours of work which attract penalty rates, such as the Horticulture Award, will include an annualised salary clause that requires the agreement of both the employer and the employee.
Moderns awards that cover employees who work usually stable hours, such as those covered by the Clerks – Private Sector Award 2010, will not require employee agreement to implement an annualised salary arrangement.
The FWC has determined the new annualised wage arrangement clauses will not take effect until 1 March 2020.
The new obligations will require employers to:
keep a record of the annualised wage arrangement, the provisions of the award that are compensated by the annualised salary and record the method by which the salary has been calculated. E.g. specifying how many hours of overtime or penalty rates have been assumed in the calculation of the salary
record the maximum number of overtime or penalty rate hours that have been taken as paid for in the annualised salary arrangement
pay an employee for any hours worked which exceed the maximum number of over time or penalty rates at the appropriate award rate of pay. This needs to be paid in the relevant pay cycle
keep records of the start times and unpaid breaks for each employee and have employees sign, or acknowledge as accurate, that record in each pay cycle or roster cycle
every 12 months from the commencement of the annualised wage arrangement or on the termination of employment,calculate the amount which would have been payable to the employee under the modern award and compare this against the annualised wage arrangement. If an underpayment is identified, employers must rectify any shortfall within 14 days.
Employers should start to prepare for this change as soon as possible to ensure their business can comply with the requirements of the new clauses. E.g. have systems in place which allow recording of start, finish and break time, and ways to ensure that any hours performed in excess of the agreed maximum will be remunerated as per the award in addition to the annualised wage arrangement.
If you would like to read the full FWC decision, you can find it here.
Providing accommodation to workers
Dec/Jan 2019/20 | Fruit & Vegetable News magazine
With farms scattered over every corner of Australia, it is common for many growers to provide accommodation to their workers.
Farm accommodation can draw in more workers to remote areas and help backpackers without their own transportation.
Unfortunately, substandard accommodation is a common complaint among transient workers. If you provide accommodation to your workers, it is important to make sure it is a safe and fair arrangement.
The Fair Farms Standard promotes that businesses ensure the accommodation they provide is safe, freely chosen and meets
legal requirements.
Safe accommodation
Where a person lives has a big impact on how happy, healthy and secure they feel. Therefore, accommodation for workers must:
Be in line with local council regulations
Have emergency exits, fire alarms and safety equipment
Have appropriate facilities, including toilets, washing, dining, laundry and refrigeration
Provide easily accessible potable water, hot water and electricity
Be sanitary and reasonably free from rodents and insects
Be located away from production buildings (eg. not in a packing shed)
Importantly, the accommodation must not be overcrowded. Generally, there should be two or less people in each room and
each person should have at least 5.5m2 of floor space in sleeping areas.
Additionally, many overseas workers are not used to the climate conditions of working and living in rural Australia. Therefore,
accommodation should have adequate heating, cooling and ventilation.
Finally, workers need to be able to move freely. You cannot excessively interfere or place restrictions on workers' freedom of
movement beyond what is reasonable for personal safety. This means you cannot lock workers in their accommodation at night or keep them in a remote area without access to transport.
Freely chosen
A key element of the Fair Farms Standard is freely chosen accommodation. This means you cannot make workers stay in
your accommodation as part of their job. If you charge workers for accommodation, the cost must be fair and reasonable when
compared with other accommodation options in the area.
Legal requirements
If you deduct rent from wages, have written agreements with workers and document the deduction on payslips. If you don't
deduct wages, make sure you give receipts.
If accommodation falls under a tenancy authority, make sure you and the worker sign a legal tenancy agreement and that you lodge any bond with the relevant authority. If the accommodation you provide falls outside of the tenancy authority, you need to have written agreements in place that outline the conditions of tenancy.
Managing worker fatigue
November 2019 | Fruit & Vegetable News magazine
Working in horticulture is characterised by hard work with long days to match. It's not uncommon for workers to put in 12+ hour days, seven days a week in peak harvest times. While the extra pay at the end of the week is tempting, the risk of fatigue is extremely high. Fatigue is defined as mental and/or physical exhaustion that reduces workers' ability to perform work safely.
Workers who are fatigued:
Are more likely to make mistakes

Have difficulty making judgement calls

Have trouble managing their emotional reactions

Are more likely to injure themselves or others
Employers who don't properly manage their workers' fatigue are not only jeopardising the safety of their workers, but also possibly increasing their cost of production through lower productivity, more mistakes and workers compensation liability.
To ensure workers are safe and productive, the Fair Farms Standard requires that:
Where workers work additional hours, they should not work more than 60 hours in any seven-day period.

In exceptional circumstances (including

unexpected

production peaks, accidents or emergencies), workers can work more than 60 hours, but never more than 80 hours in a week.

Workers are not to work more than 18 hours in a single day under any circumstances.

Workers should receive at least one day off in every seven-day period, or two days off in every 14-day period.

Employers put appropriate safeguards in place to manage the risk of fatigue for their workers.
How to implement
Every grower knows that when your produce is ready, it must be picked and packed. No exceptions. So how do you manage and prevent fatigue? The first step is to identify what factor may cause fatigue at your workplace. This might include long hours, not enough days off, early morning starts, late finishes and hard physical labour. For each of the factors you identify, implement a control measure that mitigates the risk for fatigue.
For example:
Split long shifts into shorter shifts

Instead of working seven days per week, have a rolling five-day roster with different workers, allowing everyone to have time off

Rotate staff through different tasks every few hours

Make sure workers have regular breaks with access to drinking water.
RESOURCE TIP: Safe Work Australia – Fatigue
www.safeworkaustralia.gov.au/fatigue
Developing emergency procedures
October 2019 | Fruit & Vegetable News magazine
Agriculture is amongst the most dangerous Australian industries to work in, and with fire and storm season upon us there is no better time than now to review your emergency procedures.
Depending on your business, emergency situations you need to prepare for might include fire, explosions, power outages, medical situations, rescues, incidents with hazardous chemicals, and natural disasters such as cyclones or floods. Being adequately prepared for these events is crucial in keeping you, your employees, and your business safe.
The Fair Farms Standard requires that businesses have thorough emergency procedures that meet their environmental risks, and effectively train their employees in how to implement them.
What is an emergency procedure?
An emergency procedure is a written set of instructions that outlines what workers and any visitors should do in each type of emergency. To determine what emergencies you need to prepare for, undertake a basic risk assessment of your workplace. For example, if your employees often work near creeks, you need to have a clear procedure for flooding; if working with flammables, then a clear emergency procedure is vital. Procedures do not need to be lengthy or complex, but you do need an easy to understand plan for each emergency outlined in your risk assessment.
What do I need to include in an emergency procedure?
The person responsible in your business for Work Health and Safety (WHS) creates emergency procedures and may do so in consultation with workers. These procedures need to include:
Chain of Command – make sure your team knows who is in charge in an emergency or disaster situation.
The immediate response to the emergency eg. removing people from a danger area
Evacuation procedures – assembly procedures and points, accounting for employees
How to notify emergency services and who does this
How to provide medical assistance
How emergency information will be communicated at the workplace
Testing of procedures
The Fair Farms Standard also requires that businesses have a trained and appointed fire warden as part of their procedures. Fire wardens are responsible for preventing fires by being aware of and reducing potential fire hazards in the workplace, and for implementing the emergency procedures for a fire.
Fire warden training can be undertaken in person or online through multiple Registered Training Organisations. You should also contact your local Fire Service who can help with advice about controlled burns and managing risks.
What then?
Once you have developed your emergency procedures, it is very important to train your staff in how to implement the plans. In emergency situations, staff need to know what to do very quickly to ensure everyone's safety, including their own.
To ensure your procedures are up to date, make sure you review them annually against the Fair Farms Standard. Be aware that rules change so it's important that you keep up to date. If you do find that your procedures need updating, amend them and re-train your staff in those changes. You should also review your procedures when there are major changes to your business such as relocation, refurbishments, staff number/ composition or new business activities.
Resource tip: SafeWork Australia – Emergency Plans www.safeworkaustralia.gov.au/topic/emergency-plans-and-procedures
Managing overseas workers
September 2019 | Fruit & Vegetable News magazine
Many growers rely on overseas workers to fill seasonal labour requirements all around Australia. Many of these overseas workers take advantage of this need by funding their backpacking adventures and getting their '88' days to extend their stay in Australia.
While overseas works only account for 6% of the Australian workforce, they make up 20% of all formal Fair Work disputes. They are also overrepresented in serious cases of exploitation, bonded labour and modern slavery. These workers are often more vulnerable to exploitation due to language barriers, visa status and lack of understanding around workplace rights.
Despite the challenges, correctly managing your overseas workers can result in less injuries, less turnover, happy workers and higher productivity! Fair Farms promotes some policies, procedures and practices that can foster a productive and fruitful relationship with your workers.
Can they work for you?
One of the most important aspects of managing overseas workers is understanding their right to work. Many overseas workers are under visas, which have a variety of restrictions. For example, backpackers under the 417 or 462 visa can only work with one employer for 12 months when working in plant and animal cultivation.
Employers have requirements to ensure every worker on site has the right to work, including workers provided through a Labour Hire Provider. Therefore, it is important you use the Visa Entitlement Verification Online (VEVO) system to check every worker's status. It may be useful to keep a calendar of visa expiry dates, and communicate this regularly to staff who create rosters.
Workers' visa statuses may change at any time, so it is a good idea to check VEVO on a regular basis, not just when they start work.
Communicate
English is often the second language of overseas workers, so it is important to communicate clearly to ensure workers are kept safe and productive. Some ways to ensure workers understand messages may include:
Buddy workers up with others who speak the same language
Use pictures and diagrams
Australians are renowned for being difficult to understand, so try and talk slowly
Check if workers understand, don't just assume!
Download free resources from the Fair Work Ombudsman website in language your workers often speak
Understand your obligations
Overseas workers are entitled to the same pay and benefits as Australian citizens, including Award pay rates, casual loading, superannuation and relevant rights under the National Employment Standard (NES). If you operate under the Seasonal Workers Programme or Pacific Labour Scheme, you will have additional obligations to your workers.
Remember, you may need to be registered with the ATO as an employer of overseas workers and tax those workers in accordance with their visa requirements. For example, 417 and 462 backpacker visa holders must be taxed a flat rate of 15%.
Effective Inductions
August 2019 | Fruit & Vegetable News Magazine
An induction is a process of introducing workers to their job and to the business. When workers fully understand their role, surroundings and relations to co-workers, they will have all the information necessary to perform their job confidently, effectively and safely.
The Fair Farms Standard promotes that businesses have a well thought out and documented induction procedure. Businesses need to induct workers they hire directly as well as workers hired through a Labour Hire Provider.
What to include in an induction procedure
Every business is different, and therefore each induction process will cover different areas. However, at a minimum the induction procedure should cover:
Workplace information, such as the location of break rooms and toilets
Worker role, such as job descriptions and general duties
Employment terms and conditions, including probations and piecework arrangements (where relevant)
Worker rights and entitlements, including a copy of the Fair Work Information Statement and the Fair Work My Employment Checklist
Work health and safety risks, requirements, policies and procedures
Other workplace policies and procedures
The reporting structure of the business
Process for handling of disputes and grievances
When deciding what other topics to cover in your induction process, think about the unique features that contribute to your business values (e.g. always sending out deliveries on time) and workplace culture (e.g. having morning tea together weekly).
Inducting overseas workers
It is important to consider that workers from overseas may have limited English skills and experience in horticulture. When designing your induction process, keep these issues in mind and create a procedure for communicating induction information to those workers. This may include photos and diagrams, physically showing and demonstrating topics or teaming new workers up with experienced employees who speak the same language.
Documenting the process
Use a checklist to ensure every aspect is covered. Ensure workers sign the checklist to acknowledge they have
received an induction and understand the information they were given. Make sure to keep the signed checklist with the rest of their employee records.
Remember
Some employers make the mistake of not paying workers for the time spent on inductions. However, being inducted is a mandatory work activity, and therefore, workers are entitled to their normal rate of pay.
These and other important topics are covered in the Fair Farms Standard, which outlines the accepted principles of fair and ethical employment in horticulture.
Managing young workers
June 2019 | Fruit & Vegetable News Magazine
A rite of passage for many Australian teenagers is their first part-time or casual job. These jobs have numerous benefits: they develop skills and experience, prepare them to be productive members of society and increase their self-esteem and resilience.
Despite these benefits, workers under the age of 18 are particularly vulnerable in the workplace. In fact, the agriculture industry has the highest rate of serious injuries for young workers. This may be because they are:
Still developing their skills
Lacking experience to judge risk
Hesitant to ask questions or report issues
Enthusiastic to make a good impression
So how do you effectively manage young workers to ensure they learn valuable skills and stay safe? Fair Farms promotes some keys processes and behaviours to ensure work does not interfere with minors' education, health, development or safety.
Child labour
Fair Farms advocates that no child under the age of 13 should be employed. Children are at high risk of injuries,
especially on farms. You should check the ages of all workers and keep a register as evidence of this.
State laws
Each State and Territory has their own youth employment laws that cover when minors can start work, and any restrictions on what hours they can work. At a minimum, work should never interfere with minors attending school. You can find more information here: www.fairwork.gov.au/find-helpfor/young-workers-and-students/what-age-can-i-start-work
Health and safety
You should consider the age and skills of young workers, to make sure the tasks and responsibilities they undertake are appropriate. In considering this, workers under the age of 18 should not:
Work with or around harmful chemicals
Use or operate machinery
Work without supervision
Work in very loud environments
Make sure you also pay special attention to how long minors work for, when they work and any additional or tailored training they might need around safe work practices.
Work environment
Teenagers' minds are still developing, so you should be careful and make sure the work environment is appropriate. This includes avoiding exposure to:
Vulgar language
Alcohol
Non-prescription drugs
Images or conversation of a sexual nature
The key to making sure all of these procedures work is to create and foster a culture of awareness and consideration.
Talk to other workers when you employ minors and discuss the special considerations everyone has to ensure a safe and productive workplace. These and other important topics are covered in the Fair Farms Standard, which sets out the accepted principles of fair and ethical employment in horticulture.
Managing performance in your workplace
May 2019 | Fruit & Vegetable News Magazine
Workers are often considered the biggest cost to a grower, but you can also look at them as your biggest asset. This is why the Fair Farms Standard advocates for businesses to have policies and procedures in place to ensure that:
Workers understand their performance and behavioural requirements.

Poor performance and behavioural issues are managed appropriately.
Having effective policies and procedures in place will maximise your worker performance and efficiency, which adds directly to your bottom line.
So how to do you manage performance? Unfortunately, there is no 'one size fits all' approach, as we all know what works for full-time farm hands might not necessarily work very well for a seasonal backpacker or short-term picker sent by a labour hire contractor. However, applying the following principles will make a notable difference:
Step One – Plan
Before you create a performance management policy, look at your business goals for the year ahead and think about what you need out of your workforce to meet your goals. Then, you can identify what good performance and poor performance looks like in your business. Remember to consider how you should manage performance for the different types of workers you have (for example ongoing chats with short term backpackers, planned meetings at the end of season with full-time and regular casuals, or regular one-to-one sessions with your key managers and supervisory staff).
Step Two – Document
Now that you have an understanding of your business goals, your workforce and their needs for performance management, you can put it all into a policy document. The policy should outline what you expect of your workers, how you're going to manage their performance and the process of managing poor performance.
Step Three – Implement
To reap the benefits of the performance management process, the most important step is to implement the policy. To ensue you get the most out of your workers performance:
Include the policy in your induction process.

Have regular conversations with your workers about their performance, provide feedback, both when they underperform and when they're doing a great job.

Offer support. If you have identified an issue, discuss with the worker how you can help them improve.
It is important to remember that performance management is a two-way process. Giving workers a voice will help them stay engaged and perform to the best of their ability.
Fair Farms will offer tailored training modules to growers for performance management and other subjects covered by the Fair Farms Standard.
Woolworths new requirements in relation to labour hire 
April 2019 | Fruit & Vegetable News Magazine
Woolworths recently announced an update to its responsible sourcing policy with new requirements for horticulture suppliers using labour hire providers. Amongst other things, the updated policy asks that suppliers: 
Enter into formal (written) contracts with their 

labour

 hire providers.

 

Ensure overseas workers provided by the 

labour

 hire providers have the legal right to work in Australia (

ie

. through VEVO).

 

Ensure fees paid to 

labour

 provider allow the provider to pay minimum wages and entitlements to workers.

 

Only use 

labour

 hire providers who have a license (in Queensland), are 

StaffSure

 certified, or are Seasonal Worker 

Programme

 approved employers.

 
Woolworth requires that its new standards are met by all its fresh food suppliers, including all downstream members of the supply chain, by 27 September 2019. 
Growcom welcomes this policy update overall as a step in the right direction and agrees with the substance of most of the new requirements which match the Fair Farms Standard.
At the same time however, we have raised with Woolworths our concerns regarding the implementation date of 27 September, which we believe will not work in regions where eligible hired labour is in short supply.
We also view that some of the requirements need further work on the detail, to avoid an overreach in responsibility placed on the grower (host).
We'd like to see a collaborative and harmonised approach towards improving workplace compliance levels in the sector. Growcom hopes to achieve an outcome where retailers adopt consistent policies to reduce the risk of our industry being governed by different sets of ethical sourcing standards.
Incoherent standards tend to create confusion and frustration amongst growers and will drive up compliance costs. Aligned and clear rules, on the other hand, are likely to result in more growers achieving compliance, which is beneficial to both the industry and its workforce. 
The Fair Farms Program, with the Fair Farms Standard at its core, aims to provide industry with the one standard for responsible employment practices in horticulture.
A common standard that is developed by the industry. A standard that gives growers and suppliers the confidence that they comply with existing laws relating to employment and do the right thing by their workers in a complex regulatory environment, whether workers are directly employed or engaged through a labour hire provider.
The Fair Farms Program will begin operations by the middle of this year, following the completion of the proof of concept (pilot) phase currently underway. Fair Farms is going through consultations with growers, industry peak bodies and the retailers with the aim to find the required endorsement of Fair Farms as the industry standard. 
Supervisors and leading hands play key roles in fair farms
February 2019 | Fruit & Vegetable News Magazine
Many growers have a strong commitment to being good employers and operating a fair farm business.
During busy times in the season, when there are large numbers of workers on site, a heavy responsibility falls on supervisors and leading hands in the field and pack shed. Selecting the right people to take on these roles, and providing them with adequate support and training, helps ensure your commitment is carried through to every employee.
The Fair Farms Standard sets out the criteria against which farm businesses will be audited and certified. A draft of the Standard is being tested during the pilot phase of the Fair Farms program.
The draft Standard requires that employees with staff management and supervisory roles have clear position descriptions that outline their roles, responsibilities, levels of authority and legal obligations.
When selecting supervisors, growers should look for people who share their commitment to fair and ethical conduct, and to providing a workplace free from mistreatment, bullying or harassment.
Supervisors must have good communications skills and the right personal qualities to encourage optimal performance from workers. They require the necessary skills to appropriately manage poor performance or unacceptable conduct from workers, without resorting to abuse or harsh treatment.
Staff with supervisory roles should respond promptly to concerns raised by workers and know how to apply the dispute resolution process, if needed. Ensure supervisors understand their responsibilities – and also the limits to their authority.
On a practical level, supervisors should contribute to monitoring workplace safety issues and actively manage rest breaks and hydration to avoid fatigue and heat stress amongst workers.
Supervisors must know who are the qualified first aiders on each shift and where to access first aid kits. They should also be familiar with the farm's emergency procedures and be ready to guide workers appropriately in an emergency situation.
A good supervisor is willing to be accountable and acknowledge their own mistakes. They should also inspire and demand accountability from others.
Making an investment in the people who play leadership and supervisory roles around the farm pays off through a positive and productive workplace.